Sweepy Walker – New Material Just Released
Nashville Recording Artist Sweepy Walker is not just the grandson of beloved Grand Ole Opry legend Billy Walker ("Charlie's Shoes" and "Cross the Brazos at Waco" among many other hits), but he is also an accomplished entertainer, session musician, and singer-songwriter.  Recording and playing with many notables such as Willie Nelson, Hank Cochran, Billy Don Burns, Gretchen Wilson, Colt Ford, and Trick Pony, he's now stepped out to center stage in his own right.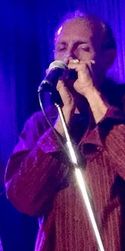 With producer and longtime friend Ira Dean, Sweepy has recorded a body of work which takes some of his grandfather's hits, eerie Mountain music originals, a driving Bakersfield beat, and a surprisingly tender Hispanic ballad and created his own unique musical madness.  Dean, famous for his own wild antics and superb bassmanship in the band Trick Pony says, "I have performed and recorded with Sweepy for over twenty years.  These are by-far his most impressive pieces of work I have ever heard out of him.  I mean, he has been spot on performing these songs in the studio.  It has really made my job as a producer easier.  And, as a friend, I am proud for him."

Sweepy is out and about performing these and many other original songs and covers at festivals, jamborees, and theaters.  Whether you see one of his solo, one-man shows or catch him performing with his band, Sweepy Walker will keep you in the palm of his hand taking you on an emotionally driven ride of laughter, song, story, and musicianship.